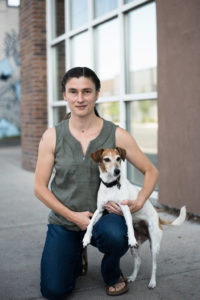 I am a psychiatrist treating adults in Littleton, Colorado. I have over a decade of experience, and I am board certified in Psychiatry by the American Board of Psychiatry and Neurology. I am also Board Certified in Public and Community Psychiatry by the American Association of Community Psychiatrists. I am a Training Candidate of the C.G. Jung Institute of Colorado, a fully accredited via the International Association for Analytical Psychology.
I approach mental health with an eye toward improving coping in day to day life while also uncovering the deeper causes of distress. I believe no treatment is complete without both of these aspects.
My dog, Lily, is my partner in the office. She's a fox terrier who would love to sit on your lap or play with her toy with you.
Treatments/specialties:
Comprehensive evaluation of psychiatric complaints, including physical and psychiatric components
Recommendation, prescription and monitoring of psychiatric medication
Talk therapy, including Jungian oriented psychotherapy
Assistance with building coping skills using techniques related to mindfulness, cognitive behavioral therapy, and dialectical therapy
Diagnoses include:

Depression
Anxiety, including panic attacks
PTSD/Trauma/Dissociative Disorders
Bipolar Disorder
Borderline Personality Disorder
Self-Harm
Payment
I am not in network with any insurance plans. I have opted not to accept insurance plans in order to avoid external limitations on what I believe to be the best treatment for my patients. This means I do not have to rush through your visits, nor limit the number of sessions if we feel more are indicated. You will find my rates comparable to other experienced psychiatrists in the area, and many insurance plans will reimburse a portion of this as an out of network benefit. You can also get reimbursed from your health savings account (HSA) or flexible spending account (FSA) for these visits.
Fees:
Initial 75 minute session:  $350
Follow up 45 minute therapy/complicated med sessions: $200
Follow up 20-30 minute med session: $140